Satava Glass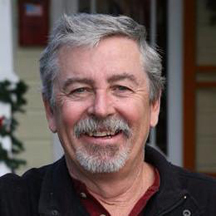 Richard Satava Handblown Glass Artist
Richard Satava was introduced to glassblowing in 1969 while at Ocean High School in Pacifica, California. He subsequently studied art and glassblowing at the College of San Mateo and California State University, Chico. As important as the skills he learned while taking courses was the experience he received at CSU, Chico, as a technician in their glass shop.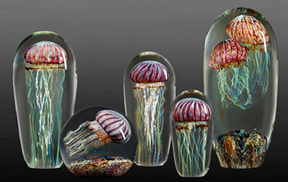 In 1977 he established his own Northern California glass studio called Satava Art Glass, working mostly in the art nouveau style. All of these designs have evolved throughout the eighties and nineties, and continue to be created with new colors, shapes and inspiration.
During most of the 1990s he started to focus more attention on ocean life. A visit to the Monterey Bay Aquarium enabled him to view Pacific Coast jellyfish in a setting much like viewing art at a gallery. He spent the next three years experimenting with various formulas to achieve the translucent colors needed to make the Moon jellyfish, which are so successful they are displayed and sold at that and other aquariums.

View New Releases, Sculpture, Small Jellyfish, Medium Jellyfish, Large Jellyfish
---
New Releases
---
Sculpture
---
Small Jellyfish
---
Medium Jellyfish
---
Large Jellyfish